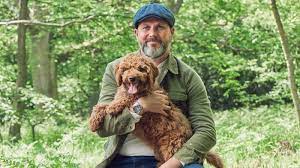 Steve Mann teaches Dog Training online with BBC Maestro
Dog owners across the UK will have access to celebrity dog behavioural expert in this practical and insightful course from Downing Ventures portfolio company, BBC Maestro. Founder of the Institute of Modern Dog Trainers and Author of the UK's #1 best-selling 'Easy Peasy' dog training books, Steve Mann will share his unparalleled expertise with dog owners at home in this brand-new course packed with training tips, demonstrations and lessons.
Learners get 30 lessons available to stream on any device, several hours of completely unique, high-end instruction, and comprehensive course notes designed to support the lessons. Steve's science-based, positive training course is suitable for dogs of all ages. He'll cover puppy training, loose-lead walking, grooming, separation anxiety, the power of play, recall, emergency stops and more. He'll even dig into breed-specific behaviours, our responsibilities as dog owners and how to read your dog's body language.
There are more dog owners in the UK than ever before – 3.2 million pets were bought during lockdown – and with things returning to normal, our best friends need a little help with separation anxiety or coping with new experiences like socialising or crowds. Steve's here to help, with an entire lesson dedicated to separation anxiety.
As a child, Steve walked into a local dog training class – with no dog. By 16 he'd launched his own dog training school. Now, with over 30 years' experience, Steve has trained more than 100,000 dogs all over the world – in prison security, TV and film, as well as with high profile sports stars and celebrities like Graham Norton and Lorraine Kelly. He's lectured on Animal Behaviour and Husbandry, and taught dogs that support veterans with PTSD, and tracking dogs who catch poachers in South Africa.
"Whether you're a proud new owner of a lockdown puppy, a 15-year-old Labrador or a rescue dog of any age, it's never too late to train your dog and build that invaluable trust. Owners of all dogs – be it terriers, retrievers or herding breeds – will learn the best way to motivate their dogs in my lessons to make for a rewarding relationship both for dog and owner."
– Steve Mann
Dog Training with Steve Mann launches Monday 9 August 2021
Pre-order is open now at www.bbcmaestro.com
It costs £80 for lifetime access for 30 lessons and is accompanied by comprehensive downloadable notes
Download hi-res images here
Steve Mann joins other world-class experts on the BBC Maestro platform including Julia Donaldson teaching Writing Children's Picture Books, Gary Barlow teaching Songwriting, Marco Pierre White teaching Delicious Food Cooked Simply, Peter Jones teaching his Toolkit for Business Success.
Ends
Notes to editor
About Steve Mann
"My philosophy is that with the right knowledge, any owner can achieve the very best training results and build a happy life together with their favourite friend." – Steve Mann
Steve Mann has over 30 years' professional dog training experience, is founder of the Institute of Modern Dog Trainers and is author of the UK's #1 best-selling dog book, Easy Peasy Puppy Squeezy. Mann recently launched a podcast, Pupdates, with Radio 1 DJ Scott Mills, chronicling Scott's puppy training with his Cavapoo, Teddy, featuring a range of celebrities also getting in touch with their own questions.
As founder of The Institute of Modern Dog Trainers, which is the largest registered education and membership body in the world for dog trainers and behaviourists, Steve has taught dog training professionals throughout Europe, Australia, South Africa, South America, the Middle East and China. 'Easy Peasy Puppy Squeezy' was followed by 'Easy Peasy Doggy Squeezy' and 'Easy Peasy Doggy Diary'; books dedicated to positive dog training and making the world better for owners and dogs.
About BBC Maestro
BBC Maestro offers never-before granted access to the minds of some of the world's greatest talents, through a series of very special video tutorials and course notes. BBC Maestro allows you to indulge in your area of passion from the comfort of your own home and learn from those experts who have done it themselves. Each course is beautifully filmed in 4K and offers several hours of content, broken down into 20 to 40 easily digested lessons, accompanied by downloadable course notes filled with hints, tips and a breakdown of each course.
Having launched in October 2020 to phenomenal success the initial courses have attracted over one million people to the service, with thousands signing up to learn from their favourite Maestro.
BBC Maestro taps into the fast-growing e-learning space – because of the way technology has revolutionised teaching and learning, lessons no longer have to be confined to the classroom. In 2020, the number of people using online learning videos rose dramatically, with an estimated 200 million users worldwide. The global 'Mass Open Online Courses' market size is expected to increase from $7.3 billion in 2020 to $67 billion by 2027. BBC Maestro is a commercial platform developed and operated by Maestro Media Ltd under licence from BBC Studios Distribution Ltd.
About Downing Ventures
Downing Ventures invests in innovative technology companies and pioneering founders across the globe with Early to Growth Stage funding across the Deep Tech, Enterprise and Healthcare sectors. The Downing Ventures team spans the UK, USA and Israel giving our portfolio a global perspective and expertise. The team are scientists, engineers, founders, visionary thinkers and story tellers. We have a portfolio of 69 companies as at July 2021. To find out more, visit www.downingventures.com